Shared Governance: What Does It Look Like in Your Organization?
By: American Nurses Association
Standard 1: Shared Decision-Making
Does shared decision-making happen across your organization? Are nurses and other clinicians part of the decision-making process at all levels? If so, you likely have a strong shared governance structure – an essential component (Standard 1) of ANCC's Pathway to Excellence® Program.
Shared governance is a model used in health care organizations that embed shared decision-making into their culture. Staff share ownership and accountability, "partnering to make decisions about clinical practice standards, quality improvement, patient care experience, staff development, and research."1, p. 19
What's great about this Pathway standard is that it gives you flexibility to create the type of shared governance structure that works best in your organization. It lets you tell your own story.
"The shared governance structure and Pathway journey created mutual support and respect between leadership and bedside nurses. It gave me the opportunity to participate in, and lead, meaningful changes that made an amazing difference to our Veterans." – Julie A., BSN, RN, CCRN, Western North Carolina VA Health Care System
Shared governance may look different in every organization, but there are some important components to keep in mind. First, it promotes interprofessional collaboration. Nurses don't work in silos, so it's essential they partner with their colleagues across the enterprise to improve patient care and outcomes. Second, as the largest profession in your organization, direct care nurses must have a voice in practice and organizational decisions.
To see how well your organization demonstrates shared decision-making, take our free self-assessment!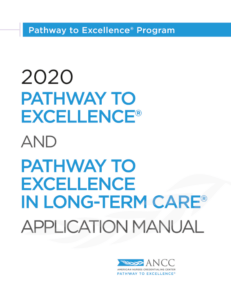 Also, be one of the first to purchase the new 2020 Pathway to Excellence Application Manual to learn more about this and all the Pathway standards.
References
American Nurses Credentialing Center [ANCC]. 2016 Pathway to Excellence Application Manual (Silver Spring, MD: American Nurses Credentialing Center, 2016).