Project ECHO: A New Way to Learn
By: American Nurses Association

Project ECHO Kicks Off
A year ago, as the pandemic emerged, health care providers had many questions and few answers. Now, nurses and their interprofessional colleagues are examining how they can improve processes and protocols for the future to better protect themselves and their patients. Through interprofessional collaborative learning experiences like Project ECHO (Extension for Community Healthcare Outcomes), nurses can equip themselves with the tools and knowledge they need to create safer, healthier practice environments and communities by implementing and sharing the knowledge gained.
Introducing Project ECHO
As part of our efforts to support nurses, ANA provides access to subject matter experts presenting timely, crucial information to nurses across the country through Project ECHO. Project ECHO is one part of Project Firstline, a collaborative partnership offered by the Centers for Disease Control and Prevention (CDC) to provide infection prevention and control (IPC) education for healthcare professionals.
What is Project ECHO? 
"The Project ECHO™ movement is committed to equipping communities with the right knowledge, at the right place, at the right time." (American Nurses Association, n.d.).
Everyone deserves access to accurate information, especially when it comes to health and safety. Project ECHO aims to improve the dissemination of best practices by providing free, virtual forums to nurses in all practice settings and geographic locations, including rural or underserved areas. To support this vital mission, ANA has partnered with Project ECHO as an ECHO' Hub,' providing the virtual platform for nurses to be part of this exciting opportunity.
The first ECHO cohort, beginning spring/summer 2021, includes critical topics on infectious disease transmission, crisis standards of care, personal protective equipment, and more. To view the complete list of topics and learn more about an ECHO program's structure, click here.
What makes Project ECHO different?
Nurses recognize the importance of lifelong learning and continuing professional development, but with everything now virtual, nurses seek educational offerings that are more than just a webinar lecture. As a virtual, tele-mentoring, and scenario-based learning program, Project ECHO is an interactive program including both lecture and case-scenario discussions with leading experts from organizations like the Centers for Disease Control and Prevention (CDC), the American Association of Critical-Care Nurses, and the Association for Professionals in Infection Control and Epidemiology (APIC) COVID-19 task force.
Meet the Experts
On March 5th, top authorities in infection prevention and control (IPC), bioethics, critical care, and more came together for the first virtual 'meet and greet' to prepare for the first Project ECHO cohort, IPC Fundamentals. Faculty for the inaugural Project ECHO include Dr. Abigail Carlson, CDC; Dr. Michael Bell, CDC; Dr. Xiaoyan Song, Children's National Hospital; Laura Webster, Virginia Mason Bioethics; Sarah Delgado, ACCN; Dr. Terri Rebmann, APIC; Rebecca Alvino, UCSF; and Rebecca Alvino, APIC.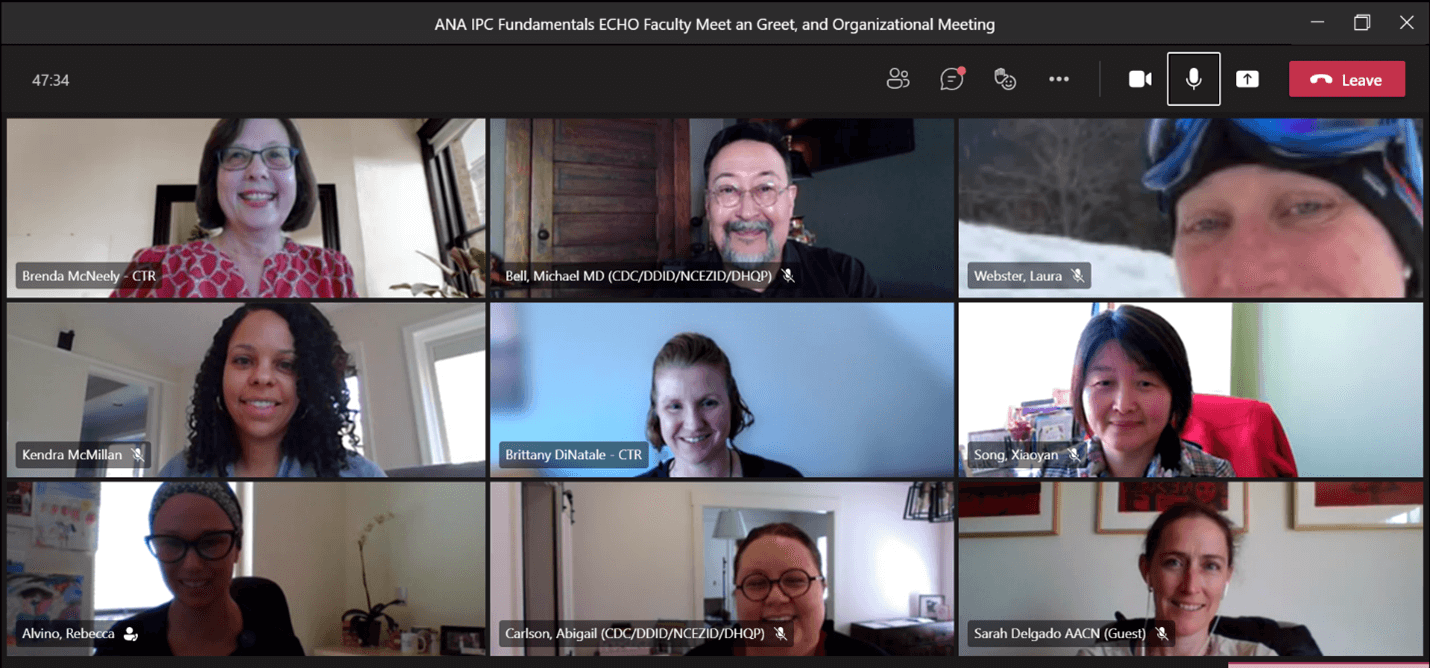 Project ECHO provides a unique opportunity to virtually engage with and learn from the experts and earn up to 8 contact hours of continuing education without an expensive registration fee. The limited cohort sizes maximize learning and provide ample opportunity to engage in productive discussions with dedicated and influential mentors from the organizations that helped guide us through this pandemic.
Learning for the Future
Nurses are integral to successful infection prevention and control in many practice settings. Project ECHO is an opportunity for nurses to gain critical and relevant knowledge that can be implemented in their practice through attending convenient one-hour sessions. Staying current with the latest evidence-based guidelines and recommendations is one of the most effective ways for nurses to transform their practice and provide the safest care to their patients while incorporating the best methods to protect themselves.
Discover more about Project ECHO and how you can be involved in future cohorts here!