Magnet® at 25 Changing the Landscape of Nursing Excellence
By: American Nurses Association
Like many great innovations, ANCC's Magnet Recognition Program® started with a question. In the 1980s, four inquiring nurse researchers brought together by the American Academy of Nursing sought to address a significant nursing shortage across the U.S. They wanted to know "WHY?" Why, in the midst of this crisis, were some hospitals able to recruit and retain nurses?
What they discovered were key characteristics these organizations shared:
Practice autonomy
Professional development opportunities
Shared decision-making
Abundant clinical resources
A commitment to innovation, excellence and quality improvement
These institutions were dubbed "magnet hospitals" for their ability to attract and retain well-qualified nurses.
From that initial research, ANCC's Magnet Recognition Program® was born in 1994. Fast forward 25 years, and Magnet Recognition® now stands as the premier international acknowledgement of nursing excellence. With more than 500 Magnet-recognized organizations around the world, the program provides the framework to implement long-term, sustainable solutions that retain exceptional nurses and meet the many challenges in today's healthcare environment.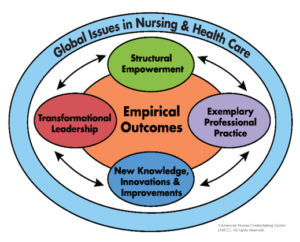 The Magnet® Model has evolved over time to reflect changes in clinical nursing practice and the workplace. Today, success is measured in patient and nursing-sensitive outcomes. Organizations that have earned Magnet status experience measurable gains in:
Nurse engagement, satisfaction and retention
Quality imperatives and empirical outcomes
Business growth and financial success
"No matter where you're practicing –  in the United States or around the world – excellence in nursing is a universal truth. As nurses, it's what we do to take care of patients. Working at a Magnet-recognized organization exemplifies that you are among the best of the best in your profession."
~ Rebecca Graystone, MS, MBA, RN, NE-BC, Vice President, Magnet Recognition Program and Pathway to Excellence
Have you embarked on the journey to nursing excellence? Learn more about The Magnet® Pre-Intent Membership Program®, designed to help your organization successfully achieve Magnet recognition. Limited time offer: Enter to win an exclusive Magnet swag bag that includes the Magnet application manual.