Going from Caretaker to Being Taken Care of… One Nurse's Story
By: American Nurses Association
As a nurse, I used to believe that there was no worse feeling than watching one of my patients struggle. This year, I learned that there was — there is nothing worse than feeling helpless to help a patient.
COVID-19 is simply awful. I know because I had it myself. I know exactly what my patients are going through as they struggle to overcome it. The fear and the isolation are terrible, but what's worse is not having their families by their side as they struggle for every breath.
Being able to help someone both emotionally and physically is very rewarding. Knowing I gave that person support makes it worthwhile. COVID-19 has taken that feeling to a whole new level.
I worry with each shift. I take an extra set of clothes to work with me and change before I leave the building. I wear shoe covers, a hair cover, goggles and a shield while working. It's not enough.
COVID-19 is real. This isn't a joke. I ask that our communities please continue to respect and practice the recommendations made by the CDC. It could be you or your loved one in that hospital bed someday.
I want to thank the American Nurses Foundation for their grant. It helped me stay on top of my living expenses when I contracted COVID-19. You are a wonderful organization. I am glad that someone showed they cared during my time of need. Thank you. Thank you, so much.
Please give today to the Coronavirus Response Fund, so we can help every nurse combat the mental, emotional, physical and financial stress this pandemic has caused.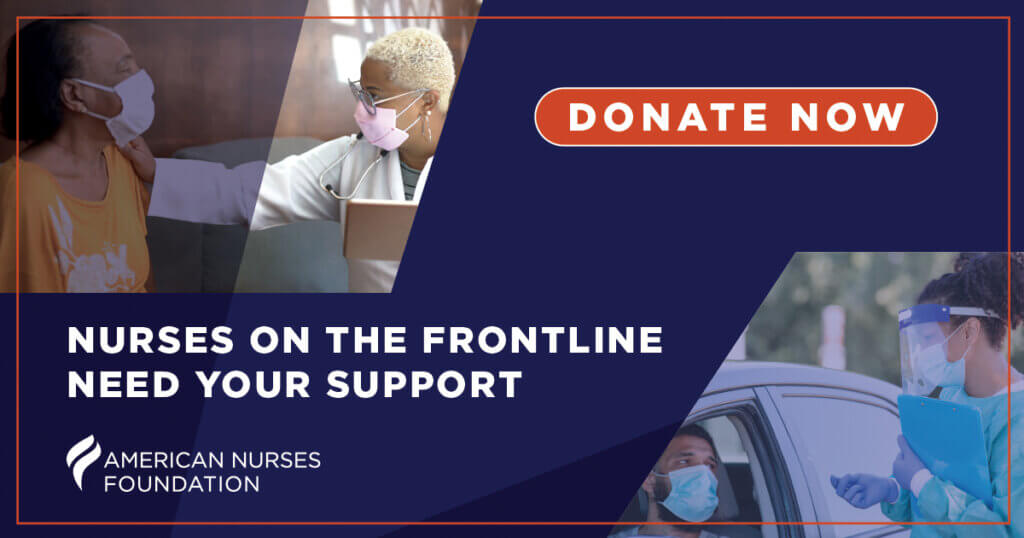 Since the global outbreak began, we have advocated for clear, evidence-based guidelines and resources to ensure our nation's registered nurses and front-line health care providers can safely and effectively respond to the virus and protect the public.
Nurses have always answered the call to serve their country and communities during times of crisis. We know that clear communication, collaboration, resilience, and innovation are key to navigating the challenges before us. We stand with you and will continue to advocate on behalf of our nation's nurses.
Here are several additional Covid related articles as a resource for you:
For more articles on how nurses are coping through the pandemic click here.
---
Nurse Focus is the official career development blog for the ANA Enterprise.